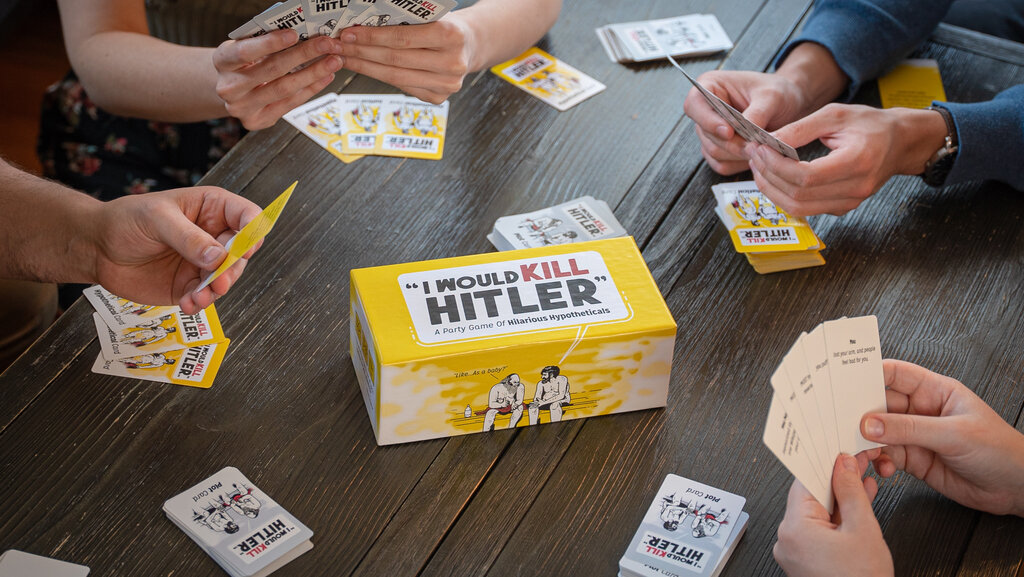 "I Would Kill Hitler" - The Party Card Game
Created by Chris Portie
Answer hypotheticals and tell your story. Anything goes in this hilarious game of "What Would You Do?"
Latest Updates from Our Project:
Ya... We're Shipping Too
9 days ago – Sat, Jan 15, 2022 at 03:22:08 AM
Christmas Update (International + USA)
about 1 month ago – Thu, Dec 23, 2021 at 02:42:20 AM
Please Read Before Commenting (USA Update + Surprise)
about 2 months ago – Tue, Dec 07, 2021 at 11:01:18 PM
Where the F have you been Chris? | Expedited Shipping??
2 months ago – Fri, Nov 19, 2021 at 06:38:15 AM
Hi everyone! It's been a little bit! 
Not a lot of images/graphics just a whole lot of text!
I had to travel back home for a funeral - that's why I've been absent in the last week. My Great Uncle "Shorty" passed away. Although I wasn't close with the man, he was family and I had the honor of being a pallbearer and a witness to his memorial and his laying to rest. His life... was incredible and I felt compelled to share a bit about him and how it's made me reflect. PS, skip all this if you're curious about expedited shipping.
2 generations back - when Shorty was born, my family lived in poverty. My grandmother's dad left the family. For the longest time, they lived under a fuggin' tree and were rice farmers in Southern Louisiana. Shorty had a pituitary issue which stunted his growth around 4ft 5in - which didn't stop him from joining the war at his time (crazy)
This dude, in the decades after his retirement, would take his 3 wheeled bike through our small hometown of Sulphur Louisiana and would collect aluminum cans and pull tabs to then take them to recylcing. He donated EVERY PENNY he made from that, to the Ronald McDonald House Charity.
  He did this for DECADES, retiring from that only a few months ago - not before the city of Sulphur banded together to memorialize him in an official proclamation - Shorty Breaux Day is officially recognized by the local government.
The Point?
Look death sucks, no way around each of us biting the dust, BUT it also is biting in the clarity it provides. Life is fleeting and temporary, and it's our obligation to learn from the character and accomplishments and failures of our elders. It was really cool hearing stories of my family's past. If you can talk to your parents, talk to your grandparents, find out where you came from, cause that web of history could end up fading as we all do. Write. That. Shit. Down. 
BTW, I'm not sad. This was not an overwhelmingly sad experience for me. I'm glad I got the chance to travel back home safely to be with family.
Ok... Expedited Shipping
Ok the meat of the update - Expedited shipping. Long story short, this fell through. Give me a chance to explain because although it didn't work out I don't regret how I approached it. Transparency incoming!
Before I go in please note
The info in here isn't fun, it's some math and boring rationale. I'm sorry for being boring at length, lol.
I'm OVER-COMMUNICATING in attempt to 1. apologize and 2. reinforce trust.
Sometimes shit doesn't work out, BUT noone got charged, because I had the foresight and cash on hand TO NOT charge cards yet. That's a win in my book. 
 Why did it fall through?
There are a few reasons, but the most primary was a miscommunication from our distribution center on the deltas (differences) in total cost shipped airfreight and total cost shipped oceanfreight. Basically, when they initially quoted us, we saw it was VERY cheap to upgrade shipping as and AVERAGE. When they returned the quote the totals were 3-4x more expensive than originally quoted - instead of $7 for expedited shipping it was like $20 on average. Nah, no thanks, I couldn't afford to split that big of a difference (although I did see if it was possible)  Warning, math incoming:
What they provided me via email:
Ocean Freight Orders: ~$57,000
Airfreight Orders: ~$76,000
I then did math on my end to speed up the process 
I covered the $4,000 and did a bunch of fun extrapolation off of an assumption of $15k of cost divided by 2000 backers ($7.50) per backer)
I THEN did a weighted distribution (is that the term?) to weight the fees around that average, but most matched the original shipping cost matched to the country - this method could get pretty darn close to what the fee we could expect would be.
The totals per country I then got were inputted into the Google Form and you guys know the rest. Here are some screen shots from the new docs
 Why did you rush it??
Look... I wanted to pull this off, but I didn't want it to hold up the whole process.  I wanted to give people the option to get their game early and I am as frustrated (maybe even more) that we wenen't able to. The supply chain is GETTING BETTER,  but not fast enough. 
Timing - the more we deliberated, the more time we wasted not knowing whose order was going on a boat, meaning the ship would set sail that much later.  We needed to give ourseleves a fighting chance to pull this off, which is why we moved quickly. But we took safeguards to prevent risk...
Was my credit card charged??!
No. You were not. Enter the safegaurds. Remember when you filled out the Google form? You gave me PERMISSION to charge your card at a later date, which never came.
When multiple parties are rushing to throw a hail marry, there's likely going to be a mistake.  Imagine processing 500 refunds? Jesus Christ you all would throw me off a bridge in real life. 
The bottom line
We are in the same place we were 3 weeks ago - orders are going by ocean, except we didn't waste much time at all. We did this gambit while orders were being prepped and bundled. I have suucessfully approved the orders and product set sail for the EU, UK, etc this week.
Thank you all
As always I appreciate you all and hope you can appreciate the candidness, transparency foresight, and open communication, even though we all didn't get what we wanted. Please reach out with any questions.
International Eyes Only - Nov 4 Deadline!
3 months ago – Sun, Oct 31, 2021 at 12:21:34 AM
This update is for International Backers ONLY!
Literally, nothing here applies to people in the USA. I will now distract all the Americans with a topical and hilarious Halloween joke.
 The Americans are either too busy crying or developing class consciousness, we have a few minutes to chat.
 
Expedited Shipping - International Only.
Want your game early? This is the last chance. Fill out this form to guarentee getting your game before Christmas.
It takes two seconds. November 4th is the deadline

FAQs
 Will I have to pay extra? Yes, click on the link, scroll to your country and you'll see the extra $ .
 Is this Mandatory to pay more? NO! Your games are in route no matter if you give us a DIME more. If you would like expedited shipping you will have to pay for it though since.
 What about admin fees? Will I get charged even more for importing the game? I have had... a lot of conversations this week regarding this and what people have assured me is, NO, you will not be surprised with fees when going to collect your game. This is because we've prepaid those fees for you (or at least, we will) - DDP is the term for it. I am so confident you won't have to pay more, that I will write a personal check to anyone who does incur fees for the full amount.
 Why are you offering a two class system of shipments? It's not fair that I have to pay more! To a certain extent, we agree. The ONLY reason we're offering it is because it was so dang cheap to go from ocean to air freight - it would cost ME like $20k more, but would cost YOU $2-10 more. The shipping we charged was for ocean freight rates, which is standard on most every Kickstarter ever. It just so happens this year, it's completely fucked and takes a lot longer. Air freight usually isn't needed OR affordable enough to offer, nut both those things are not true in this instance.
 Ok, what about if I don't do expedited? When would I get my game? I asked this to our fulfiment center and they refused to give me a specific range. It's been like this for months, as they don't want any of their clients coming back and being "wtf you said..."  However, when I posed it to them in a different way, they agreed that the following prediction would come to pass. Maybe December, probably January and definitely February. Do with that as you will.
 Please DM or comment any questions I did not address!
 
 ARE YOU CHANGING ADDRESSES?? (Again, international only...)
You have until Nov 4th to tell me where you're moving to! Remember that deadline I gave international folks a week ago? Well, I got like 10 address changes after the fact so my deadline didn't really work did it? Nov 4th is actually the cut off. Like, product starts leaving the warehouse, cut off. If you are unsure if you are moving in the next few months or even YOU KNOW you're moving but don't know where to,  Please do one of the following.
Change your address to a friend, family member or PO box you KNOW isn't moving.
Pay for expedited shipping to an address you will be at for the next month.
The only two things you need to do before Nov 4
DM me your address change
Thanks everyone for the continued understanding. This is a balance of doing the right thing, knowing what these changes mean for you and me, and putting in the work to make this go as fast and smooth as possible!
You all are amazing!